Enrichment

Enrichment
At Leeds West Academy we strive to have an extra-curricular provision that broadens students' horizons and allows them to experience life outside the classroom. From Year 7-11 students can access our extra- curricular timetable which will be updated every term along with our lunch time programme where students have access to sport, fitness and Performing Arts. Below is a list of some of the clubs that students can get involved in when they arrive at the academy. Some of the clubs are also sign up only and will be advertised during their form time. Some are also subject to different year groups which every student will have the opportunity to access during their time at Leeds West Academy.
Extra-Curricular Activities
Sweet Treats Baking Club
Key Stage 3 Dance Company
Key Stage 4 Dance Company
Astronomy Club
Duke of Edinburgh
All Sporting Clubs on the P.E Timetable including Badminton, Football, Gymnastics, Trampolining and Netball.
Homework Club
Maths Club
Chess Club
Board Games Club
Music Band Club
Technical Club
Whole School Show
Trips
At Leeds West we also hold a variety of trips throughout the year which are growing in number. Each year students have the opportunity to attend trips via rewards and via subject areas. This year students have the opportunity to attend a theme park at the end of the year, as well as find out about Subject Area trips such as the Move It Convention and a trip to the Leeds Grand Theatre.
Trips that your child can get involved with could include:
Sporting Tours
Live Football Matches
Move It Dance and Drama Convention in London
Theme Park Reward Trip
Empower Trips
Leeds Grand Theatre
Leeds City Varieties Pantomime
Student Leadership
Alongside our Enrichment and Extra Curricular Timetable, we have a student leadership group that is made up of a combination of different year groups and is lead by our Senior Student Leadership Group in Year 11. The Student Leadership Group ensures that student voice is heard and active change is made. They meet once a week and discuss how they can positively support change across the academy. Each year students can also apply to be apart of the programme and in Year 10, students will have the opportunity to apply to be a Head Student who meet with Senior Leaders.
If your child is part of the SLT, they will have the opportunity to be involved in:
Making positive change to school life
Meeting with Senior Leaders
Meeting once a week to discuss policy
Creating Form Time Resources
Supporting Application Processes and Job Roles
Supporting Engage and Enrichment Events
Empower
Empower is a programme dedicated to empowering year 10 students. We are focused on female empowerment, and so are open to any students who identify as female. We deliver sessions helping students to become aware of and to overcome many challenges women face such as self-esteem, body image, how to deal with harassment and toxic friendships to name a few.
Our students also improve their own leadership abilities and by the end of the programme are accredited a level 2 Student Leadership Qualification (SLQ). They achieve this by planning and delivering their own session based on a STEM topic and deliver this to year 5 and 6 students.
We also go on various trips throughout the year, such as looking at getting more women in STEM careers and so we have visited talks with environmental agencies, bomb disposal workers, Leeds University and Leeds City College to explore various career routes to get more young women involved in.
Our sessions run every Wednesday from 3:00-3:30pm. Students can get involved through filling out a short application form, through teacher recommendation, or by sharing interest with any of the 3 Empower leaders: Miss Pickles, Miss Morley and Miss Pearce.
Duke of Edinburgh
The Duke of Edinburgh Award at Leeds West Academy is now going into its third year. Students in the Y9 and Y10 cohort can now sign up for a place for 22/23. For further information please speak to Mr Appleby appleby.c@whiteroseacademies.org.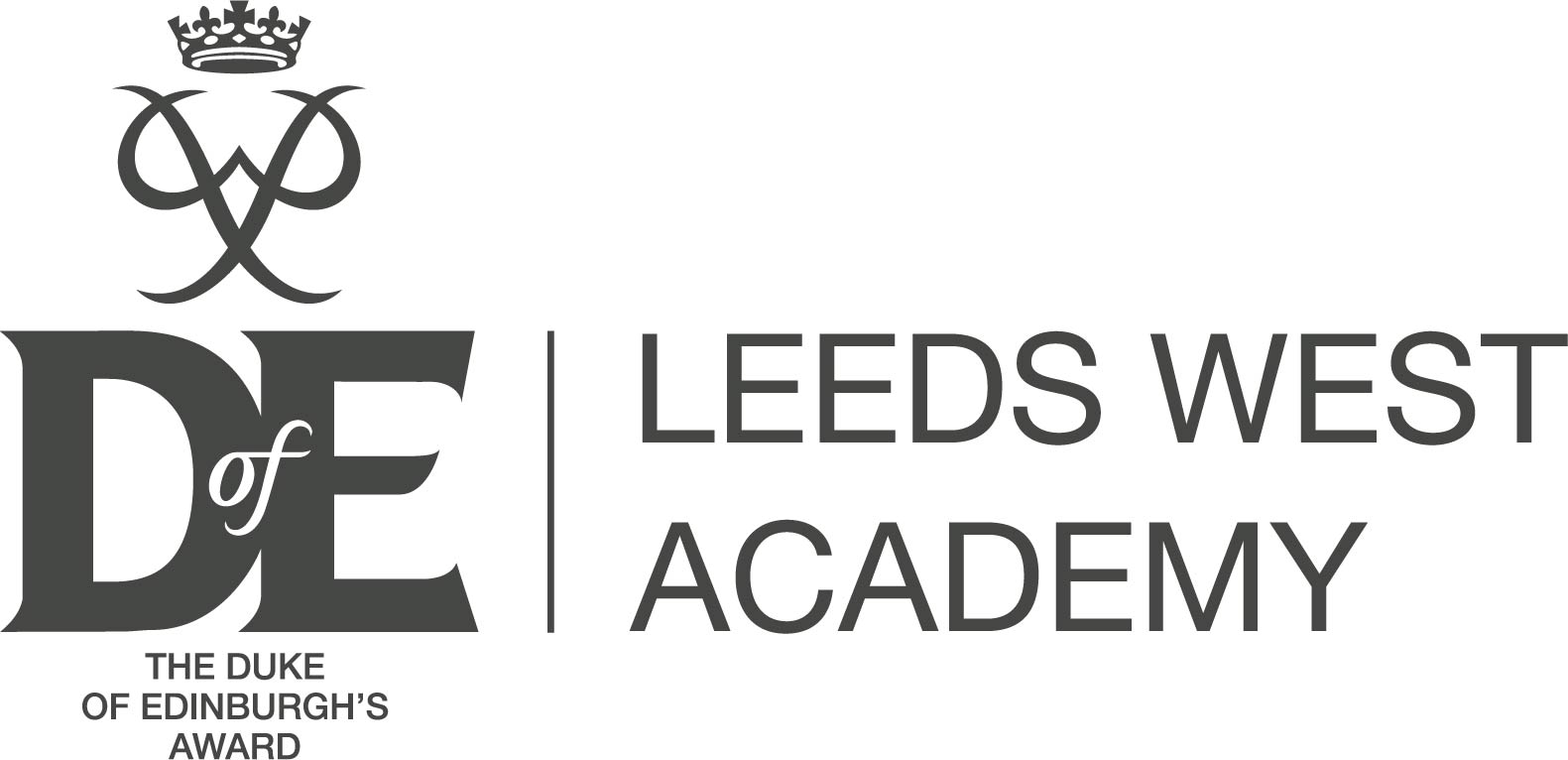 What is The Duke of Edinburgh Award?
The Duke of Edinburgh Award is an internationally recognised award that provides students opportunities to develop their skills and qualities. All students are given time to develop their sense of identity and responsibility which in turn improves their confidence and self-belief. They are also encouraged to build on their leadership skills and understand how to problem solve and work as a team. This in turn enhances their level of independence, empowering students to become a positive role model for the future.
How does it work?
Students enroll onto The Duke of Edinburgh Award through LWA and receive an introductory pack that will guide you through the process of completing tasks and recording evidence. Students can achieve over time their Bronze, Silver and Gold Award.
Starting with the Bronze Award you will spend at least three months engaging in the following activities:
Volunteering in your community
Learning a new skill or pursuing a new hobby
Taking part in physical recreation
Students Own your DofE and create your own personal programme of activities: helping others, pushing yourself physically, gaining skills and in the future months, going on a residential/expedition.
Parents and Carers Young people are responsible for creating and doing their own DofE programmes, but parents and carers can play an important role in supporting them. If you are new to DofE, check out the basic info and FAQs on the Duke of Edinburgh website.
DofE Expedition Update 2021
After many months of uncertainty, it is a fantastic feeling to confirm that our group of committed students who have managed to continue their Duke of Edinburgh skills, volunteering, and physical activities over months of national lockdown, will be completing their expedition before the end of the academic year.
On the weekend of 17th and 18th July, 23 students across Year 9 and Year 10 will walk roughly 14km to the Bramhope camp site, before returning the following day. These students have completed some outstanding work towards their Bronze Award, from cooking to daily walks, learning new languages to supporting vulnerable neighbours. It will be a hugely enjoyable weekend, rewarding students for their hard work and commitment by participating in the expedition and achieving their Bronze Award in full.
Since Easter, students have been preparing for the expedition, taking part in team building activities, learning how to read a map and the importance of providing accurate directions. Before half term, students will be planning their route for both legs of the journey, identifying suitable walking routes, and avoiding any potential hazards. Following half term, students will then learn how to pitch a tent, use the cooking equipment, and create a food menu which they will follow and cook on the expedition.
Each Bronze expedition must have an expedition aim and for this, our students have opted to devise a game of bingo. On the outward leg of the journey, teams will identify over a dozen items they pass, focussing on nature, the environment and even architecture. It will be the job of a different group to then spot all of these items on the returning walk, taking pictures of each one and prizes being awarded for the group that manages to locate the most. To support this wonderful group of students, we are privileged to have a large number of staff willing to volunteer their time to attend the expedition over the full weekend. Staff will ensure that students are safe, remaining on the correct route, negotiating any hazards appropriately and most of all enjoy their experience.
The expedition is an exciting opportunity for our students, and I am sure they will reflect on their DofE experience as one of the highlights of their time in school. The completion of the Bronze Award will no doubt have a positive and influential impact on the journey of our students after Leeds West Academy. I look forward to providing you with an update after the expedition.
If students require any support with their DofE Award or any parents wish to contact me regarding our Duke of Edinburgh offer, please email livingston.a@whiteroseacademies.org or call the academy on 0113 229 5454. Alternatively, you can contact me via Class Charts.
Thank you,
Mr Livingston
Teacher of PE
How do you enroll and get started?
To enroll and to get full details get in touch with Mr Appleby appleby.c@whiteroseacademies.org.
You will then get your log-in details which you will receive via email. There are more details on how to set up your Duke of Edinburgh account here.
LWA Staff Quotes
Here at Leeds West Academy, staff are super excited about the launch of The Duke of Edinburgh Award and are keen to be involved and supporting of the students -
'DofE is your time to stand out from the crowd on your CV and develop life skills. You will have an experience like no other, you will learn survival skills, improve your physical skills, give something back to the community. It's your time to work on your independence skills, explore and work as a team. My favourite part though is that you get to make life long friends and have an adventure at the same time. Not to mention the expedition where you get to cook on a Trangia and camp. It's lots of fun so get involved.' Mrs Harrison
'For me, the Duke of Edinburgh's award really built my confidence. The different sections were all challenging and rewarding in their own way, but the real highlight was the expedition. To be expected to travel through beautiful scenery, be completely self-sufficient, navigate, cook, camp and work as a team was an awesome experience for a 14 year old. After progressing all the way to Gold award standard, travelling to St James Palace in London to receive my award from the Duke of Edinburgh himself was the culmination of years of enjoyable, rewarding hard work.' Mr Stalford
Useful Links
More information can be found on the Duke of Edinburgh official website - www.dofe.org